Runnymede - The birthplace of modern democracy.
In 1215, King John came to Runnymede in order to place his seal on the Magna Carta. This has proven to be one of the most significant events in history. Many of the World's constitutions have been based on this historic document, including the United States of America.

"Special Magna Carta Commentary"
There are 3 memorials to see as well as many other points of interest - all will be highlighted in a special commentary.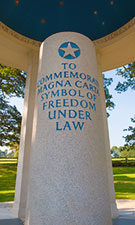 The Magna Carta
Memorial:
Inscribed "To commemorate Magna Carta, symbol of Freedom Under Law" Unveiled on 18th July 1957 and created by the American Bar Association

In association with The National Trust at Runnymede.